Since 1998, BioMedica Nutraceuticals, a subsidiary of PharmaCare Laboratories located in Alexandria, New South Wales, Australia, has been a key player in the B2B health and wellness industry. Their recent partnership with Adobe Commerce marks a significant step in re-energizing their business, focusing on delivering naturopathic solutions to practitioners.
Objectives: Expanding B2B reach and enhancing patient care
BioMedica's primary goal was to grow their B2B business by enabling practitioners to easily manage prescriptions for their patients. This initiative was not just about boosting sales; it was about helping clinicians achieve success while fostering patient loyalty. Eyal Wolstin, General Manager of BioMedica, explains, "We aimed to simplify script ordering and fulfillment, making it easier for both practitioners and patients."
Within the first two months of implementing Adobe Commerce, BioMedica achieved impressive milestones, including a 10% increase in average monthly patient orders and the addition of 100 new accounts per month.
A digital transformation journey
Eyal Wolstin's vision for BioMedica involved finding a new e-commerce platform that would align with the company's tradition of exclusive sales through clinicians. Adobe Commerce was chosen for its capability to allow practitioners to manage patient accounts and create prescriptions easily.
The collaboration with Sydney-based Tonic The Agency led to the successful re-platforming and redesign of BioMedica's e-commerce site. This included integrating with the existing MYOB Exo ERP system for efficient inventory and financial management. "The flexibility and open-source nature of Commerce allowed us to develop custom workflows, enhancing the practitioners' experience," says Wolstin.
Promoting best practices in naturopathy
BioMedica's new website not only streamlined navigation but also offered enhanced educational resources for practitioners. The site's design allows for sorting by various criteria and personalizing user experiences. "We've made it easier for practitioners to focus on patient care rather than administrative tasks," Wolstin highlights.
A significant feature of the website is a technical resource library, connected to our new commerce platform, providing vital health and wellness information. Wolstin adds, "This integration is crucial for keeping our practitioners informed and engaged."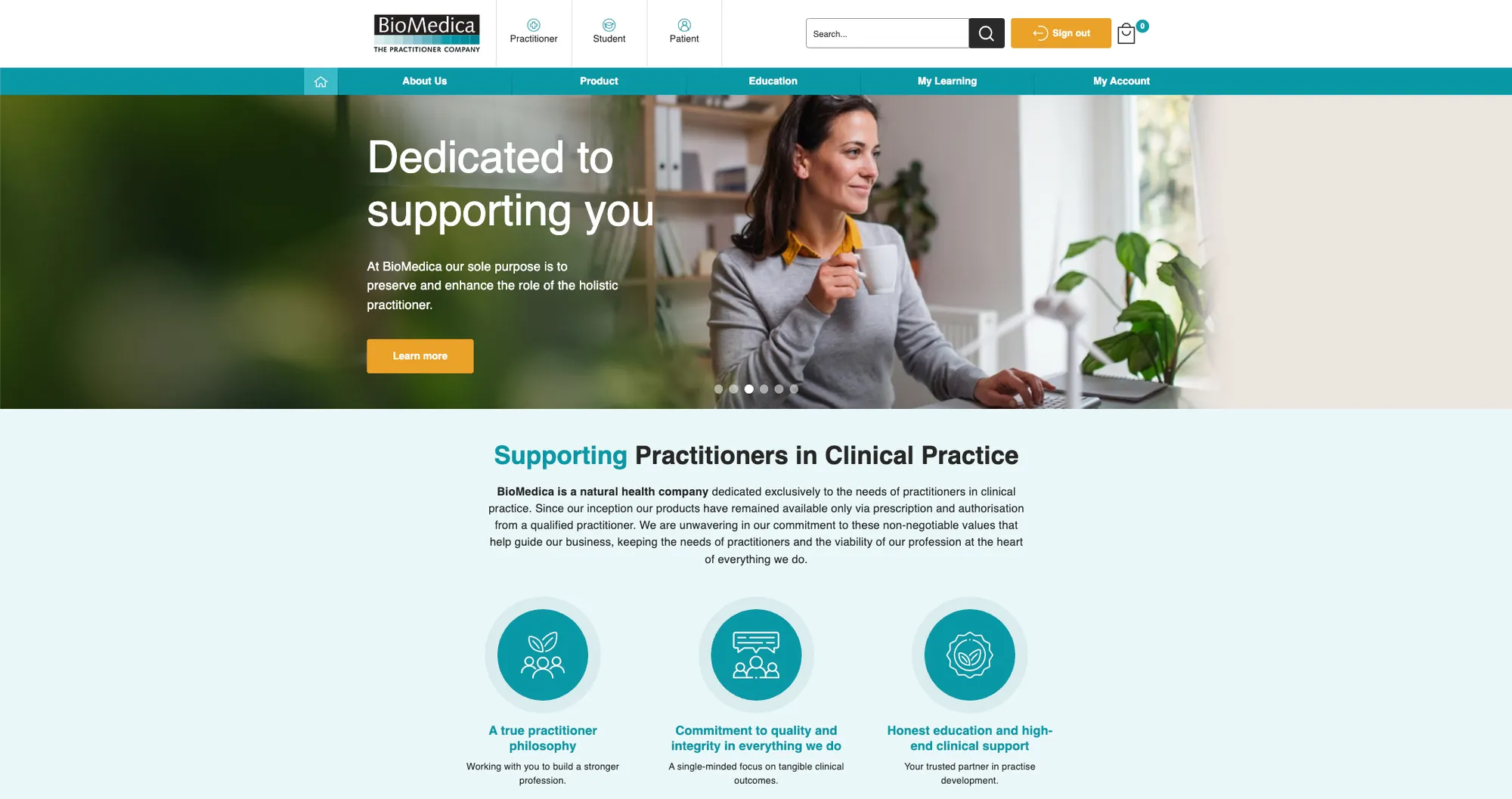 Results: Enhancing value for practitioners and patients
The new e-commerce site has been pivotal in helping clinicians grow their practices. This, in turn, has enabled BioMedica to expand its market reach. The site has doubled the number of quality website visits and significantly increased patient registrations and orders.
BioMedica Nutraceuticals' strategic use of modern commerce technology underscores the potential of digital solutions in transforming the naturopathic healthcare sector. By focusing on practitioner empowerment and patient care, BioMedica is not only achieving business success but also setting new benchmarks in healthcare innovation.